Brownman Ali's BLUE NOTE COMPOSER SERIES - Week 3 composer: HERBIE HANCOCK at Rhapsody Barrel Bar
About
Every Sun afternoon in May award-winning jazz trumpet iconoclast BROWNMAN ALI and an all-star cast of Toronto's jazz finest explore the compositional works of 4 legendary composers from the seminal Blue Note Records label. This week features the compositions of HERBIE HANCOCK.
----
Browntasauras Records & Brownman Music Inc. proudly present:
Brownman Ali's BLUE NOTE COMPOSER SERIES
Exploring the compositions of 4 legendary Blue Note Composers
----
Every Sunday Afternoon in May
@ Rhapsody Barrel Bar, 179 King St. W., Kitchener
www.RhapsodyBarrelBar.com
All shows $20 at the door, $10 students w ID, 3-6pm...
Andrew Nicholson uploaded this event on April 26, 2018
Browntasauras Records
2013
buy
Browntasauras Records
2009
buy
Browntasauras Records
2007
buy
Browntasauras Records
2004
buy
Browntasauras Records
2003
buy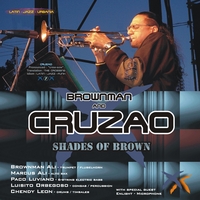 Browntasauras Records
2002
buy